We travel for many reasons, but the one common denominator is the number of choices that travel presents. That's why we want to discover the best website for travel deals, regardless of your travel plans.
Of those choices, one of the most important is finding the best travel deals so that our money goes further, and our experiences are more rewarding. That's why we're going to look at some of the best websites for great travel deals and vacation packages.
But, before we explore the websites claiming to offer the best offers and last-minute deals for travellers, we should remember one thing; sadly, there is no single website where the best travel and flight deals live.
The best travel websites will point you in the right direction to refine your search, after that, it's up to you to decide what's best and compare prices.
If you really want to make great travel purchases and find a good deal, one suggestion is to use a reward program like Monetha. When you sign up as a Monetha member, you earn valuable points every time you shop with the company's partners – including travel sites.
Book a vacation and get rewarded
Book your dream vacation using the Monetha app and get rewarded with points after the successful booking. Exchange your points to gift cards or even cryptocurrency!
The name says it all, a travel website where last minute deals are big news.
The site is dedicated to finding the best travel deals for flights, cruises, and hotels. Also, if you become a member for a small fee, you are eligible for unique deals and notifications when prices drop and are only available to members.
Plus, you'll earn points as part of a rewards program that can later be used in conjunction with the website to get free travel deals.
Last minute deals on flights, cruises, and hotels
Earn points that can be redeemed for free travel
The site's Undercover Hotels feature will help make savings of up to 65%
One of the best travel sites around
Serving 6 continents, Qatar Airways is one of the world's fastest-growing airlines and delivers money saving deals on luxury long-haul flights.
Traveling to over 150 destinations from Canberra to Cairo and Addis Ababa to San Francisco Qatar Airways operates a fleet of next-generation aircraft from its base in Doha, Qatar.
By becoming a Qatar Privilege Member, you'll get access to a world of unmatched rewards and deals, from reduced ticket prices to exclusive benefits onboard and beyond.
Over 150 worldwide destinations
A modern environmentally efficient fleet of aircraft
Exclusive Privilege Club rewards
Monetha partner
Kayak is the original travel search engine and one that's trusted by millions of people right around the world.
Processing over 6 billion travel searches annually, the company helps millions of travellers find travel deals, flights, hotels, car rentals, and vacation packages that fit their requirements.
Kayak has given the ordinary person the power of a travel agent making it easier for everyone to explore and discover the world.
Premier global travel deals website
Over 6 billion travel searches
Almost instantaneous results
Deals on flights, hotels, cruises, and car rentals
Over 1,000 international employees.
For Monetha members, Lastminute.de offers great savings on all last-minute travel deals, plus the bonus of receiving Monetha points with every booking.
Your points can then be exchanged for gift cards from some of the world's biggest brands, cryptocurrency, or used as donations to the charity of your choice.
Lastminute.de helps its customers to make full use of their free time by offering last minute beach, city, cultural, family, or business travel at great discounted fares. As the company describes its experience, 'a 5-Star life at a 3-Star price'.
Last minute holiday deal specialists
Access to more than 1.5 million hotels worldwide
City breaks or beach getaways
Flights with more than 300 airlines
Extensive range of industry partners
Monetha partner
If you're looking for a simple website where you can book flights easily, they don't get much simpler than Google Flights.
Its simplicity lets the user search for a destination rather than a particular airport, for example, NYC will get you results in all New York airports. The platform also informs you of the fully inclusive cost, and if it includes extras like luggage costs, etc.
If you're looking for a last minute weekend getaway, but you have to work until 6:30 pm, Google Flights lets you check flights at specific times helping you to make the most of your time off.
Easy to use simplified layout
Multiple search options inc. time, city, or even region specific
Visible baggage charges
Newsletter notifies you of flight updates and deals
Earn miles regardless of airline
Google Flights' flexibility makes for bigger savings
Both an online booking platform and a mobile app, Expedia makes it super easy to find the best vacation deals on package holidays, hotels, cheap flights, tours, cruises, and rental cars.
Expedia members get access to exclusive deals and discounts for family reunions, business trips, or city breaks. You can also bundle your deals with combined flight and hotel bookings while Expedia remembers your preferred choices to offer you similar deals.
Members also get deals on 5-star hotels and VIP properties. Plus, Expedia makes it easy to cancel trips, change dates, and easily redeem any refunds.
Online and app booking platform
Easily find and book flights, cruises, hotels, excursions, and car rentals
Multiple search criteria – location, duration, time
Great bundle deals
Extra rewards and deals for Expedia members
Easy cancel trips or change dates
Cruise Direct is the specialist website for finding the best cruise deals all around the world. It's not often you can use the words affordable and cruise in the same sentence, Cruise Direct makes that possible.
Just like flights, people do cancel at the last minute for a variety of reasons and that's your ticket to a luxury experience of a lifetime.
And more importantly, Cruise Direct doesn't charge booking fees and operates a price match guarantee, meaning if you find a lower price online, they'll match it. Finally, find a deal you like and lock in the price and pay later.
From world tours to short cruises
Great deals from the best cruise ship operators
Book now and pay later
Best price guarantee
Lower price matching
Lock in a price and pay later
Hop-on hop-off sightseeing tours are one of the most popular ways of getting to know a new destination quickly, comfortably, and conveniently.
Often overlooked by tour operators, Big Bus Tours operates guided city bus tours in over 20 great cities across four continents.
Other companies manage flight deals, rental cars, and hotels, Big Bus Tours is the specialist in tours that give you more than just a glimpse of the city, they take you deep inside the place's history, culture, traditions, and more.
Guided hop-on hop-off bus tours
Over 20 great cities on 4 continents
Great local guides
Comfortable buses
Multiple languages
Monetha partner
OMIO - Flight deals and more
Regarded as the fastest-growing European travel booking platform, OMIO gives users the power to search and book flights, trains, ferries, transfers, and buses throughout Europe, the United States, and Canada.
Use either the web or a downloadable app to search the offerings of over 1,000 transport partners from the biggest issuer of mobile tickets on the European continent. Bringing everything together under one roof makes it easier for customers to focus on their journey, and not the details.
Plus, as a Monetha partner company, every time members book a great travel deal with OMIO they receive valuable points that can be redeemed for gift cards, cryptocurrency, and charitable donations.
Europe's fastest-growing travel booking platform
Over 1,000 respected travel partners
Book flights, trains, ferries, transfers, and buses
Downloadable app
Full journey support
Mobile tickets direct to your phone
Updates and reminders
Monetha partner
One of the best-known accommodation booking sites online, Booking.com offers the best search options with numerous filters to help you find exactly what you're looking for and save money.
Choose from studios, apartments, luxury villas, and unique rental properties right around the world with a couple of easy clicks. However, Booking.com isn't just limited to accommodation options, you can also search for cheap flights, car hire, airport taxis, holiday experiences, tours, and great local activities at reduced prices.
The website also hosts a reward system called Genius that gives members an extra discount of 10% when they book a hotel through the platform twice in one year. Plus unlock a whole host of other benefits like room upgrades, free breakfasts, and other great perks.
Instant discounts as soon as you sign up
Great range of search filters
Offers inspiration and tips for your next trip
Genius reward program with extra discounts
A host of other benefits, like room upgrades and free breakfasts
Travellers' forum and community chat
If train travel in Europe is your preferred choice of transport between destinations, Eurail – a partner of the Monetha rewards platform – offers members great discounts and cashback offers.
Founded in 1843, Eurail has the experience and the system in place to find the best European train deals with discounts for students, families, seniors, the disabled, and anyone who loves the magic of train travel.
Choose from both regular and high-speed train services to connect with a huge assortment of interesting itineraries that cater to all interests and budgets. Also, as a Monetha partner, you'll earn valuable points from every Eurail purchase – and from hundreds of other online partners – to exchange for gift cards from some of the world's top brands, cryptocurrency, and even to make charitable donations.
Long-established experts in European train travel
Great deals online every day
Train travel passes for even greater savings
Great trip inspiration and suggestions
Partners include Europe's top train operators
Earn reward points with Monetha
How to Get Great Deals and Vacation Packages
If you want to save money on travel, there are quite literally tens of thousands of websites claiming to have the best travel deals online. And it's true, some of them have really great discounts, sales, one-off offers, last-minute deals, and loyalty programmes to take the pain out of travel costs.
But shouldn't there be a way where you can get great deals every time you make a travel booking?
Well, there are, there are several ways in fact.
Credit cards
If you're someone who travels a lot or plans to travel a lot in the future, you need to talk to your credit card supplier.
Some credit cards, and even debit cards, offer real cashback deals on every purchase you make using your card – and that includes travel.
Most credit providers offer between 1% and 2% cash back on purchases made using their designated card.
It mightn't sound like much, but on a trip costing over €1,500 that €15 or €30 you get back could be a good bottle of wine with dinner, a taxi from the airport, a one-day excursion or adventure experience, in fact, it could be anything you want – it's yours.
Cash back
By downloading some travel apps or joining specific travel programs you can earn rewards and discounts with every purchase you make.
That can include flights, trains, taxis, car rentals, and hotels. Many apps will give you discounts or reward you with upgrades just for signing up for their app or service.
In fact, with some of the larger online travel booking sites, you can double-up or even triple-up your savings by delving deeper into their app and signing up for different services, taking surveys, testing products, and much more.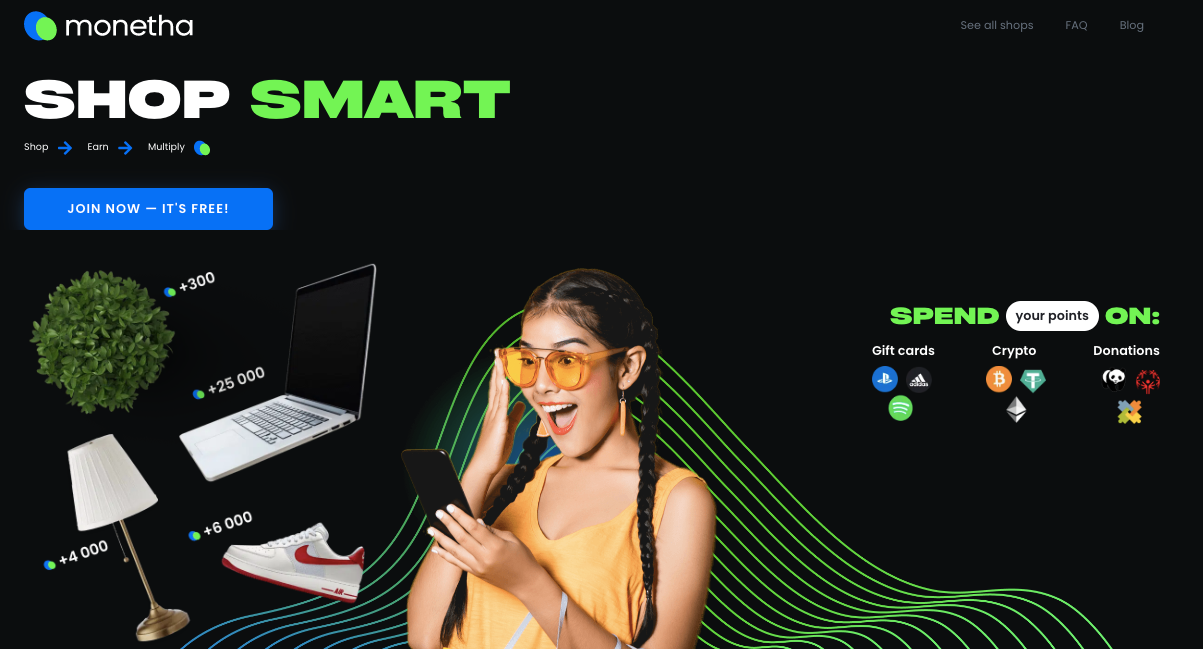 Rewards programs
Reward programmes work by introducing members to a selection of online retailers who offer points for your loyalty.
Programmes like Monetha, with over 800 top online shopping partners, let you exchange those points for valuable gift cards from a huge range of top brands – both travel and non-travel related.  You can also redeem the points for cryptocurrency or make donations to the charity of your choice.
That means that you win every time you book a trip, train, hotel, rental car, flight, or all inclusive getaway.
Follow the right social media accounts
This is not an everyday occurrence, but many of the top travel companies, airlines, and travel influencers sometimes offer great time-limited deals in cooperation with their partners on social media.
These can include the lowest price, or even free hotel stays, cheap airline tickets, coupon codes for hotels and resorts, and upgraded rooms. But there's a caveat, you must keep following and staying up to date with these influencers, or you might just miss the deal you've been looking for.
Book a vacation and get rewarded
Book your dream vacation using the Monetha app and get rewarded with points after the successful booking. Exchange your points to gift cards or even cryptocurrency!
Like good comedy, finding the best travel deals is all about timing. When the good deals come, you have to be ready to jump.
Sure, it's expensive to take long-haul flights around the world to stay in a 5-star hotel, or even just a weekend away in the next city can all put a hole in your bank account. That's why any deal you can get is a good deal, but if you're really quick, you can get exceptional value if you're flexible about destinations, dates, and accommodation choices.
There is no one particular site offering 100% guaranteed best deals, but using a search aggregator like Kayak, Expedia, Google Flights, or Booking.com you can compare and find the best value for you.
According to one renowned travel blogger, Nomadic Matt, these are his top three travel discount sites:
Best hostel website – Hostelword

Best hotel website – Booking.com

Best cheap flights website – Skyscanner
But don't forget, there are lots of other sites out there with great deals, depending on what you want.
Ok, this is another question without a simple answer. If I were to give a simple answer, I'd say that the best website for travel booking is the one that suits your needs and gives you the best value.
That means there's something different for everyone whether you're a last-minute traveller, a luxury destination enthusiast, a safari fan, or a lover of long Caribbean cruises.
But we've checked with the real experts and these are their suggestions for the top websites for booking cheap travel in 2022.
Momondo

Kayak

Expedia

Priceline

Orbitz

Agoda

Hotwire

Skyscanner

Travelocity

Google Flights